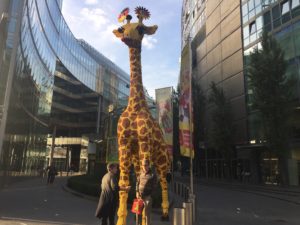 Everyone is an expert at something. There must be some skill, some experience which puts you in a special position to be able to offer added value to your partner in the business. Because the other party, whether he or she is an Investor or an Owner of a business or Owner of real estate, is your partner, not your employer. If you see yourself as a wage earner, than that is what you will be. However the DealWorkshop has so much more to offer. This is a place where Experts like you become shareholders and partners in projects. A partner has much more dignity and ownership in a deal than a contractor or freelancer. A partner also has a larger share. True, a partner also takes on more risk, but life would be boring without risks.
If you feel there is no particular skill you are proud of, then think of the language(s) you speak and the geographical location where you spend your valuable time, think of the people you know, think of the tasks you could perform or the skills you could learn… All these are valuable to the Owner or Investor or their Agent, who are looking for the missing pieces in the puzzle to complete their deal. This is the chance for you to make their deal your deal. In fact, you will be the one connecting them, securing your position with a pre-written contract downloadable from the DealWorkshop website. The contract will ensure you receive your share of the deal when it happens, because you agreed to contribute to its success at an early stage.
The 50+ workforce, who is often labeled as "overskilled" and going through the humiliating process of competing with the 20 and 30-year-olds, having pointless conversations with HR managers, trying to reinvent themselves. Yet you know so much about entire industries, you are outstanding professionals, with high technical and scientific credentials. You are familiar with the operation of complex systems, experienced in several professional disciplines, are able to navigate the web of corporate and government regulations, you possess outstanding networking capital, and have proven to be good "merchants," seasoned businesspeople in the market. You are in the best position to take advantage of the DealWorkshop, able to lend your services as consultants and senior managers, opening the doors for the deals in progress.
Young people out of college, or still in school, looking for a dream job, struggling with the vicious circle of no experience – no job. You can get lots of industry-specific experience at the DealWorkshop, working with Experts, working on real deals. At the same time you guarantee future earnings through real contracts downloadable from the DealWorkshop website. There are so many jobs that need to be done. Start experimenting with some of the deals and sharpen your financial literacy as you learn from the Investors about what makes a good deal. You are full of energy, highly-motivated, eager to learn, naive enough to try out new approaches, free to think outside the box, plus it's a great community. You will find it, don't give up.
One form of earning money is securing future revenue through contracts with Owners and Investors, both of whom are keen to get the opportunities to the "deal" stage. This revenue may be in the form of a one-time commission, ongoing commission, royalties, it can also be an hourly wage, monthly salary, or an agreement about an annual salary. It could be a project-based pre-determined fee or a share in the project, regulated by contract. How about a share in the business, in the actual company, registered in the court? You can also demand a share in the asset (real estate, etc), registered at the Land Registry, depending on which country it is in. Finally, a position in the new business (regional sales rep, project manager, supplier) can also be agreed with the parties. Remember, right now they do not have the budget to pay you, the best they can do is sign a conditional contract, however, once the opportunity becomes a deal (with your help), there will be enough funds, through investment, to create a position. You will have created your own position.    
The other way to succeed is to get noticed through your valuable contributions to several opportunities going through the process. A creative person who makes things happen is so valuable that soon you will be hired away by Investors' agents, Owners' businesses, other Experts, or head hunters. People notice.
Here are some hints on what jobs need to be done on Opportunities before they become Deals, all you need to do is sign a service contract in advance with one of the parties. Everyone could use an assistant, admin & secretarial services. Just imagine, if you offered these services for a share in the deal! How about due diligence, making calculations, obtaining or giving price quotations, bids for a job? Advertisement, legal work, accounting, tax consulting, translation and interpreting… Try not to limit yourself with an hourly wage, with a little routine keyboard crunching, you could be a shareholder in tomorrow's Apple or Google! Shipping, appraisal, architectural services, taking measurements, classical marketing, research, market research, competition analysis — these are all services which someone, somewhere along the way has to put into the project — now why don't you volunteer to do this in advance? You could help them introduce quality control standards (ISO), or assist with grant application, project management, media, PR, you could offer to manage their social media, do graphic design, web programming, creating an app, operate their web site. How about private investigator services or fundraising? Seriously, even startup consulting, obtaining a needed permit, managing interaction with government authorities, securing insurance contracts, doing property management. Simply get things done with service providers, suppliers. You could sell yourself as an industry specialist (agriculture, pharma, media, politics, security, technology, food & beverage, telecom, education, high-tech, nonprofits…). Why not already establish yourself as the local regional representative in the would-be business? Complete with business cards, email address, stationery. Be bold! Go to a trade exhibition and represent the company or simply gather information, get leads for the Investor or Owner, they will be delighted. Professional sales services (cold calling, prospecting, presenting, following up). Yes, you can even be a one-man-show call center. Have you thought of creating audio visual presentations, professional video presentations? A few hours of work and you have secured yourself a share. Even VIP security services, bodyguard. Can you provide catering, accommodation, fuel, energy, electricity? Use it to secure a commission in an upcoming deal! Are you a supplier of parts, clothing, manufactured items, unbranded objects, services? Use your products as equity in someone else's business.
We connect the high value of your work with the low value of the potential deal's shares. Once the shares take off, you've made it.
Tip: Companies, family businesses, large service corporations may also register as Experts. Why not?